Who We Are

The Durham West Arts Centre Foundation is a charitable organization with volunteer leadership, based in Pickering, Ontario. Our goal is to to build an arts centre in west Durham Region.


Our Mandate

Our mandate is to organize, plan, design, fund, contract for, and build a performing and visual arts centre in the western part of the Durham Region, for the benefit of the citizens and arts community in the Durham Region.


Our Vision

The arts centre is envisioned to include performing, media, visual arts and multi-purpose spaces serving local and regional audiences and artists, and featuring local, regional, national and international talents. Read more


Employment Opportunities

City of Pickering
Wanted: Executive Director, Performing Arts Centre CLOSED
---
DWAC at Pickering City Centre Vision Meeting
October 1, 2018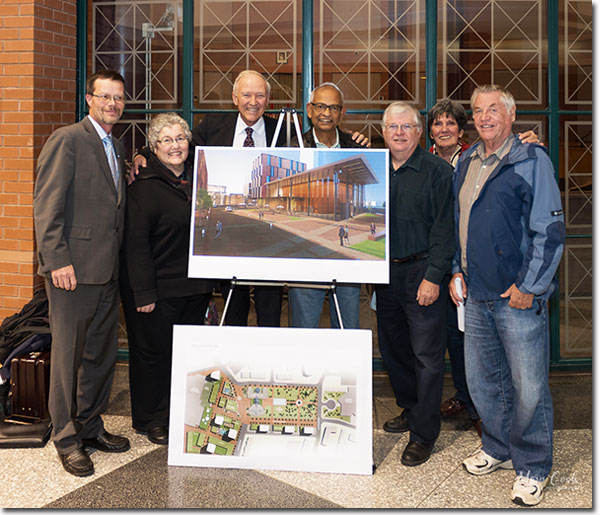 From Left: Gary Strange, Marjorie Green, Justice David Stone, Afsar Naqvi, David Green,
Mary Cook and Bob Jackson
The march toward a new performing and visual arts centre has involved a succession of watershed moments. The latest occurred Oct. 1 with the City Staff report to Pickering City Council, and the unanimous report adoption.
City Staff is now authorized to negotiate and pursue a downtown vision using a public/private partnership. This revitalization will include new housing, a new arts centre, a juniors and seniors facility, and Library expansion.
Focusing on the arts centre, the plan adopts principles worked out by Staff partnering with the Durham West Arts Centre team. Conceptually, the centre will be built by Cushman Wakefield on Pickering Town Centre property, to City specifications. It will be leased to the City long-term. The partnership with DWAC continues.
DWAC met early on Oct.2, to begin new work to assist the City. We passed a motion of congratulation and for Staff and Council's achievement.
We are going to build an arts centre!
Do you support an Arts Centre in Pickering?
Today PRAC & DWAC emailed and asked the candidates for Pickering Council "PineRidge Arts Council, Durham West Arts Centre Inc. and DWAC Foundation wonder if elected, if you/will you, continue Council's support of an arts centre in Pickering?"
---
For Immediate Release
DWAC Foundation Welcomes Pickering City Centre Project
Foundation to work in partnership with the City on development of an arts centre
PICKERING, ONTARIO (February 28, 2017)  Business and arts community leaders with the Durham West Arts Centre (DWAC) Foundation are pleased with the commitment of City Council to the Pickering City Centre Project, which includes a performing and visual arts centre.
The project was one of the highlights in the proposed 2017 budget presented to the Executive Committee meeting on February 16th and approved by Council on February 27th.
"This commitment from Pickering re-affirms our partnership and brings our shared vision of a state-of-the-art performing and cultural centre in the city's downtown core closer to reality," said Mr. Justice David Stone, Chair of the Board of Directors of the DWAC Foundation. "In addition to providing high-quality arts and entertainment programming, the arts centre is an investment that will provide tangible, economic benefits to the entire region in terms of increased revenue from cultural tourism."
The Durham West Arts Centre Foundation has worked alongside the City of Pickering for many years to further the vision of a vibrant and accessible community arts centre.
For information, contact:
Pamela Edmonds, DWAC Administrator
---
Meeting

I would like to take this opportunity to invite you (or your designate) to participate in an important meeting to plan for the operation of the Arts Centre. As part of their work, Webb Management Services is working to develop a business plan for the facility, which means addressing how it should be programmed, operated, and financially sustained. Given that you have been identified as a potential user of new arts spaces, the consultants would like to involve you and your organization in the effort.
The meeting will take place at the on Monday, October 24, 2016 from 7-9 pm at the Pickering Recreation Complex Arena – O'Brien Meeting Rooms (located at the back of the Complex at 1867 Valley Farm Rd.). The Consultant will be developing operating policy and practices in such areas as scheduling, ticketing, food & beverage service, and backstage operations. They will also be considering ways that a new arts centre might be operated, talking about important issues like rent, and bringing you up to date on other elements of the project.
This will not be your only chance to participate in the planning process, but it will be a very informative and important event. If you or someone from your organization can attend the meeting, please RSVP with Leigh Brazeau at lbrazeau@pickering.ca or 905.420.4660 ext. 2177 by October 20th. If you can, please prepare by thinking about how often you might use the new facilities and what types of operating arrangements would suit your needs.
Thanks for your consideration.
Marisa Carpino, M.A.
Director | Culture & Recreation Department
905.420.4660 ext. 2025 | 1.866.683.2760 | mcarpino@pickering.ca
---
Thank you to architect Raji Shukla for her concept drawing of what our arts centre could look like. A centre to inspire creation and creativity with Theatre and Concert Halls, an Art Gallery and accommodation for Archives, Rehearsals, Storage, Workshops and more, bringing the arts of the world to Durham, and the arts of Durham to the world.
Show your support today!
---

In January Pickering will hold a by-election for Ward 1 City Councillor. PRAC, DWAC and DWAC Foundation posed this question to the candidates.
As a City Councillor for Ward 1 candidate and if elected, PineRidge Arts Council, and Durham West Arts Centre and Foundation are wondering if you/will you support an arts centre in Pickering?
Responses to be posted on line. Click HERE
---
Durham West Arts Centre Foundation applauds Pickering for supporting arts centre
Feasibility study to be included in 2016 budget deliberations
MEDIA RELEASE PDF VERSION | WEB PAGE
Dream of Durham West Arts Centre in Pickering closer to becoming a reality
---
Creating an arts centre in west Durham Region has been a dream for many for many years …
Pickering plans for growth bring new initiatives to cultural vision
Recent initiatives by the City of Pickering bring plans for downtown growth including creating a cultural and institutional hub. The vision statement for the plan states that downtown Pickering will be a vibrant, sustainable, accessible and distinct city centre for all people for all seasons. It will be a place to inspire, a place to gather, a place to work, and a place to live, all in a compact and walkable environment. The plan focuses on eight key elements focusing on six distinct sectors in the downtown: The Avenues, encompassing Kingston and Liverpool Roads, Valley Farm Neighbourhoods, the Civic District, including City Hall, Esplanade Park and the Pickering Recreation Centre, South Downtown, located south of the 401, Pickering Town Centre and West Downtown, located west of Liverpool Road. These plans for growth include creating distinguished gateways to the downtown area at key entry points such as Kingston and Liverpool Roads, creating a transit hub and enhancing connectivity for transit, pedestrians, cyclists and drivers. It will also offer new destinations with the construction of elements such as a hotel and convention centre as well as an arts centre.
The vision for Pickering's city centre took on a new dimension in early February, with the unveiling of a new 3D model currently on view at City Hall. The scale model maps out the planned development of the downtown core over the next 20 years. Mayor Dave Ryan says the 3D model will help market Pickering by making the city centre vision more tangible to investors and developers. The Province has identified Pickering's city centre as an urban growth centre and mobility hub. Since 2012, the City has been working on plans for intensification, investment and growth management in the city centre, culminating with a final study document that was endorsed in principle by Pickering council in July 2013. To view the study, visit www.pickering.ca/downtown.
In light of these exciting ventures, DWAC Foundation's dreams of building a world-class arts centre are steps closer to becoming reality.
Welcome
Located within the Greater Golden Horseshoe and the Greater Toronto Area, Durham Region is a growing geographically and culturally diverse community situated within Canada's largest metropolitan market. We have recognized the need for additional arts and cultural facilities in Durham Region, and have well positioned ourselves to advance our vision and goals.

Potentially, new facilities would support emerging and established artists and arts organizations, bring touring attractions and performances to Durham Region audiences, promote economic development, increase quality of life and establish necessary infrastructure for the growing population.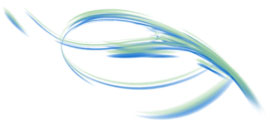 ---
On September 13, Durham West Arts Centre Inc., Durham West Arts Centre Foundation and PineRidge Arts Council polled our 2015 Federal Candidates with this Arts Question.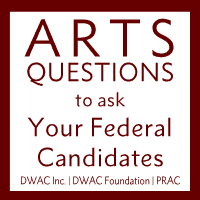 With the 2015 Federal Election fast approaching we would like to hear your view and commitment on the following.

Most Canadians believe that the Arts are important to the Quality of Life, yet funding for the arts takes a back seat.
We were wondering if you will / if you support the Arts and the role it plays in our lifestyle?
Should federal government take the leadership role financially?
Would arts centres be considered infrastructure projects?
Comments you would like to add?
We look forward to your replies and will publish all responses on our websites.
Responses to be posted, click HERE.