DWAC Foundation Open House at Pickering City Hall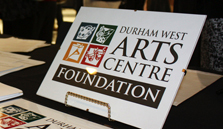 13 Aug | DWAC Foundation Open House at Pickering City Hall

DURHAM — Arts groups and community leaders have had their say on a proposed arts centre for west Durham. And in August everybody in the community is invited to add their input.
The Durham West Arts Centre Foundation has enlisted Webb Management Services of New York City to conduct a feasibility study on a centre in west Durham. On Aug. 23 at 7 p.m. at Pickering City Hall, the DWAC Foundation and Webb are holding an Open House where all are invited to learn more and comment.
Foundation Chair, Justice David Stone, says, "We are at the very brink of being able to build our new Performing and Visual Arts centre. It is very important that the arts community, cultural groups and the general public tell our consultant about their requirements and dreams, to make the Centre work for them."
The event will feature displays from local artists and groups and music by "Heartstrings", an accomplished string quartet consisting of two violinists, a violist and a cellist from the Durham Youth Orchestra. Attendees will have an opportunity to speak directly with members of the DWAC Foundation and/or submit written/electronic comments at the meeting or afterwards.
The Open House format will largely be informal. There will be comments from Pickering Mayor Dave Ryan and a presentation made by Webb Management's Duncan Webb. After the presentation, everyone will be invited to mingle and enjoy the art, entertainment and refreshments.
Creating an arts centre in west Durham has been a dream for almost 40 years. However in recent years momentum has been building, with a dedicated group of volunteers devoting hours of their time. As the DWAC Foundation moves forward to design and build this exciting project, they hope to see many artists, residents and future patrons at the Open House on Aug. 23 to share their comments, ideas and encouragement. Visit the DWAC Foundation's website, www.dwacfoundation.ca,for more information.
The Durham West Arts Centre Foundation appreciates the support from the City of Pickering, Rotary Club of Pickering, Ontario Trillium Foundation, and our corporate sponsors.