02 Sept | Arts centre study points to positives for Pickering
Durham West Arts Centre Foundation holds successful event
posted by: admin | author : Kristen Calis | newsdurhamregion.com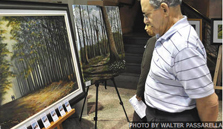 PICKERING — If all goes according to plan, local artists, as well as those from all over the world, could be performing in a large venue right in the heart of Pickering.
More than 100 guests attended an open house at the Pickering Civic Complex Aug. 23 hosted by the Durham West Arts Centre Foundation.
While the Durham West Arts Centre (DWAC) already has artists offering exhibits and programming and has a temporary location at the Greenwood Library, the foundation is working to build a permanent arts centre.
The goal of DWAC is to support, promote and present world-class, contemporary arts and culture.
"Through education, presentation and partnership we will continue to develop awareness and engagement in the arts, increase our audience and membership, be sustainable and champion the intrinsic need of arts and culture to our community," the DWAC website states.
The event in Pickering included artwork by Dorsey James, Edward Falkenberg, Sharon Steinhaus, Cheryl Bannister and Robert Hinves and music by the Durham Youth Orchestra string quartet, Heartstrings.
"They did a fabulous job," said Erin Michel, DWAC Foundation project manager.
Duncan Webb of Webb Management Services provided an update on the study his company is conducting on whether an arts centre in west Durham is feasible.
His presentation noted a number of groups would be able to use such a space, and that a permanent arts centre would affirm west Durham's position as a regional centre and would support residential, retail and commercial development, increase the quality of life and support a vibrant cultural community.
"It definitely stressed the need that there is to have a facility in the area that people can use," Ms. Michel said.
Pickering Mayor Dave Ryan, honorary chairman of the DWAC Foundation, agreed. He and other council members attended the event.
"It was very promising," he said in an interview. "There's no question in my mind that it's going to happen."
And it's very likely Pickering will be the home.
"Definitely we'd like to have it in Pickering," said Ms. Michel. "The needs assessment study is pointing that Pickering would be the best place for it, somewhere in the downtown vicinity."
Mayor Ryan said it would be a great addition to the municipality. Pickering may have a shortage of soccer fields and baseball diamonds, for example, but the city has a downright cultural vacuum, Mayor Ryan said.
The study is scheduled to be completed sometime in October.
"Soon, hopefully, we'll be able to make that announcement as to planning to put a shovel in the ground," Ms. Michel said.
In the meantime, DWAC has a number of events coming up. The foundation is also accepting ideas and comments regarding a possible arts centre.
Learn more at www.dwac.ca or www.dwacfoundation.ca.
Link to original article: http://www.durhamregion.com/whatson-story/3455876-arts-centre-study-points-to-positives-for-pickering/